Mills Organic is a 4-part product line. A unique formulation of plant nutrition.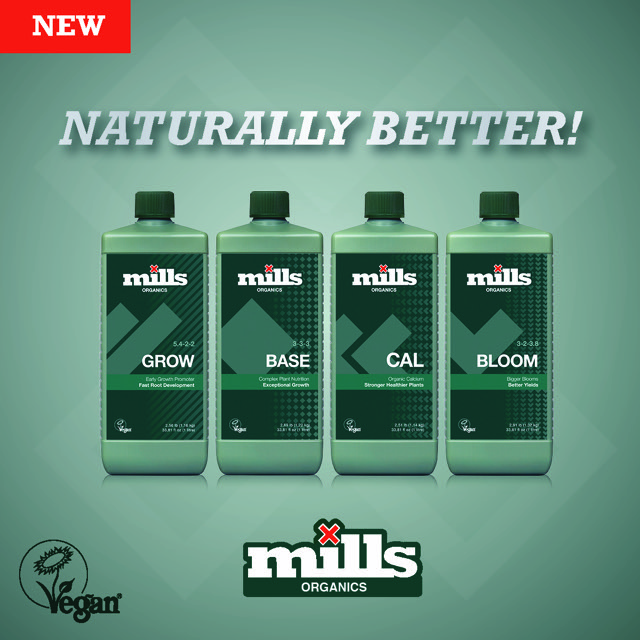 Mills Orga Grow is an organic, nitrogen rich formulation, designed to ensure optimal root development and accelerated plant growth. Using plant based amino acids. Orga Grow provides the building blocks needed for enzyme and protein production, which are crucial to optimal plant health. Making sure young plants develop well and with a strong root structure ensures your plants have the best possible start. Having a strong start results in optimal yields when the plants mature.

Mills Orga Base is a complex mix of organic micro and macro nutrition designed to ensure optimal plant growth throughout a plants life. Orga Base gives you healthy invigorated plants, lush green growth and outstanding results. Together with fulvic and humic acids which boost the energy in plant cells through a process of chelation, Orga Base naturally facilitates a plants absorption and uptake of available nutrients. Designed to be used with our Orga Bloom during the flowering stage.

Mills Orga Cal is derived from an ancient limestone source and plays a crucial role in maintaining plant health at a cellular level. Orga Cal activates the enzymes needed to trigger growth activities within your plant and is critical in strengthening and maintaining cell wall structure. Using our organic calcium throughout the grow cycle will result in stronger plants with bigger and heavier flowers.

Mills Orga Bloom is designed to work with our Orga Base Nutrient to offer the perfect balance of nutrition to promote flower growth. Using a unique source of organic potassium crucial to flowering plants, Orga Bloom helps develop larger heavier flower sets with excellent terpene and resin profiles.


Discover the new line here!
Related products
Mills Orga Grow 100 ml - NPK 5.4-2-2
Mills Orga Base 100 ml - NPK 3-3-3
Mills Orga Cal 100 ml - Ca 8
Mills Orga Bloom 100 ml - NPK 3-2-3.8
Price
€28.60
Regular price
€35.75
-20%
Liege:

Latest items!

Eghezée:

In stock!

Quaregnon:

In stock!

Fosses:

In stock!
Price
€37.70
Regular price
€47.08
-20%
Liege:

Latest items!

Eghezée:

In stock!

Quaregnon:

In stock!

Fosses:

In stock!
Comments (0)
No comments at this moment
New comment