Airfan Healthcare HS-300
 
Discreet packaging and protected

Delivery 24 to 48 hours - Free from € 100

Exchange for 30 days - 2 year warranty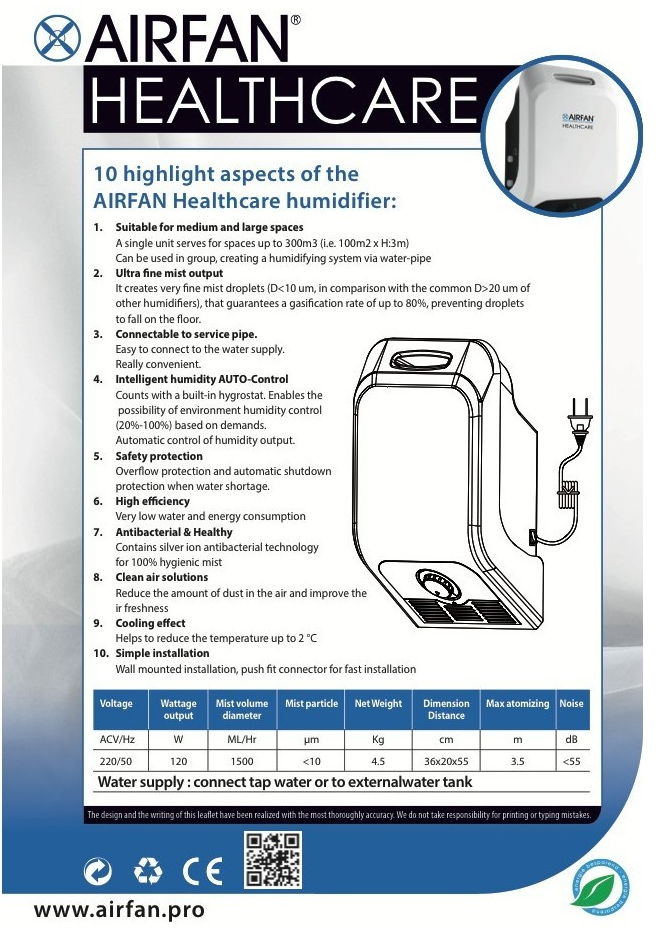 AIRFAN AIR CONNECTOR HS-300 MAX 300 M3
The AIRFAN Healthcare HS-300 Humidifier is a fully automatic humidification system to achieve the right humidity in medium and large surfaces up to 300m³. The optimal humidity for human comfort and health is between 40 and 60% RH. The AIRFAN HS-300 humidifier is suitable for the hotel, lobby, office, cinema, theater, shops, restaurants, schools, nursing homes and sports facilities.
The Airfan Healthcare is a very technologically advanced humidifier with very low energy consumption that makes you amazed. Reduce dust content in the air and provide fresh air.
The device creates fine mist drops of D10um compared to other humidifiers that create D20um fog. This guarantees a gasification of 80% without residual drops on the ground.
Counts with a built-in Hygrometer to automatically adjust the humidity to the desired value (20% - 100%). Also, Airfan Healthcare will automatically turn off water shortage and protect it from flooding.
The Airfan Healthcare also makes its name true, it has silver ion antibacterial technology to ensure healthy and clean fog and helps reduce the temperature to 2 ° C !!
Note: If you want to achieve a higher humidity than 40-60% or have a very fresh air supply, 300m3 will not be met and you will need to test how many appliances you need to get the desired humidity.
FEATURES:
Suitable for medium and large spaces.
A unit is suitable for spaces up to 300m3 (ie for a surface area of ​​100m2 x 3m height).
Can be used in a group to create a humidification system from the water pipeline.
Spray an ultra-fine mist (Diameter D20 um of similar other humidifiers), which ensures a gasification of up to 80%, leaving no drops on the floor.
Easy to connect to the water supply.
A built-in hygrostan allows you to control the humidity from 20% to 100% according to what is requested.
Overflow protection and automatic shutdown at water shortage.
High efficiency.
Very low water and energy consumption
Antibacterial & Healthy.
Contains silver ion antibacterial technology for a 100% hygienic mist.
Schonelucht technique.
Reduces the amount of dust in the air and improves the freshness of air.
Cool effect.
Helps to lower the temperature to 2 ° C.
Easy installation.
Wall mounting, with push fit connection for quic